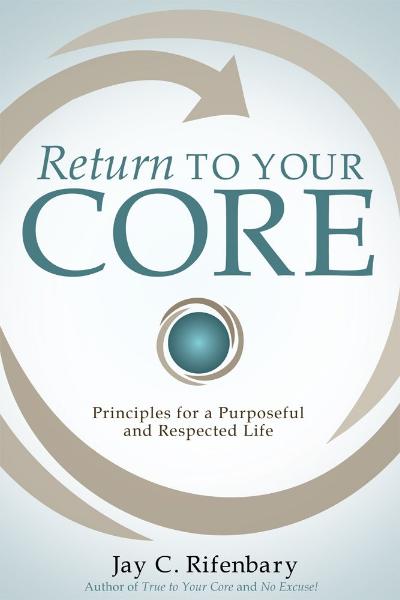 Return to Your Core
NEW RELEASE!

Discover the Secrets to a More Meaningful and Successful Life

Click Add to Cart, your copy will be autographed by Jay!
$17.95 Secure online payment by PayPal. Free Shipping!

What if there was a way to make relationships more meaningful ... a way to make work more satisfying ... a way to make life more fulfilling? There is. It's called knowing and implementing your core values. In Return To Your Core: Principles for a Purposeful and Respected Life, Jay C. Rifenbary shows that when you allow your core values to guide you, day in and day out, you know what to do and how to do it, and excuse making disappears. In fact, the more you know and live by your core values, the freer you are in all areas of life.

DISCOVER HOW TO:
Gain insight on evaluating your important core values and how they contribute to the development of your character
Enhance your understanding of the importance of decency in all your relationships
Elevate your appreciation for what and who surrounds you
Create a greater level of awareness of the role of humility in your life
Maintain a consistent level of self-discipline in all your endeavors
Harness and share the wisdom you possess
When you live a life that reflects your core values, you'll be better equipped to overcome obstacles, accomplish your goals, and attain the success and happiness you deserve.
$17.95